Bullie Media / Films / Books
When training Bull Terrier owners, they often ask about books and films featuring the Bull Terrier.

Last Up-Dated 03/02/2021

As those of you who are familiar with the Bull Terrier, know only too well how hard they are to train, here, just for you, are a few nuggets.
---
Books that may help with training and handling an English Bull Terrier and dogs in general
Jan Fennell is wonderful and well known for her work. This one is a good read and useful called The Practical Dog listener.
The 30-Day Path to a Lifelong Understanding of Your Dog
Some other books by Jan Fennell
The Seven Ages of Your Dog: A Complete Guide to Understanding and Caring for Your Dog, from Puppyhood to Old Age
A Dog's Best Friend: The Secrets that Make Good Dog Owners Great
Why English Bull Terriers ?
We do know there is no official English Bull Terrier dog breed, we also know people do search on the web for English Bull Terriers.
To help as many bullies as we can.
Tribute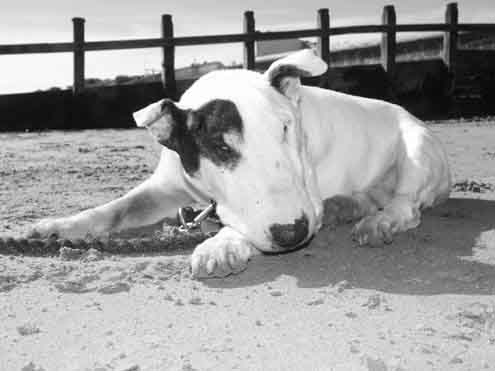 Sykes Wessex Eyeshiner
---
Jane Killion has done a remarkable job with her rescue bullies in When Pigs Fly.
When Pigs Fly: Training Success with Impossible Dogs
Come and have a look at Jane Killion working with a Bull Terrier.
Jane Killion's YouTube channel
---
The Culture clash by Jean Donaldson.
---
Fun books about the English Bull Terrier
An old book from 1934 Our friend the Bully by Rowland Johns.
Our Friend The Bull-Terrier (Hardcover)
Another oldie The Bar Sinister by Davies Harding.
Bar Sinister
---
A lovely one for the kids, a true story based in Hampshire.
The bully and the Badger by Wickham Malins.
Bully and the Badger
---
Interesting story of a Bull Terrier travelling Southern Africa in the late 1800's by Percy Fitzpatrick. There is a monument to Jock in Kruger National Park.
Jock of the Bushveld
A little background on Jock and Fitzpatrick
---
The incredible journey. Also a wonderful film but beware, a modern version uses another breed in place of the Bull Terrier so you must watch the original.
Incredible Journey
---
How about something classical by George Elliot. Mill on the Floss and Mumps the Bull Terrier.
The Mill on the Floss (Penguin Popular Classics)
---
A very interesting author and conservationist from Canada, Ernest-Thompson-Seton. Very interesting man here is a website for him www.etsetoninstitute.org .
Interesting Bull Terrier story is called Snap
Ernest Thompson Seton: The Life and Legacy of an Artist and Conservationist
---
Rudyard Kipling wrote a lovely short story called Garm a hostage. You can find this story in this compilation book.
The Best Dog Stories
---
For the really little ones out there how about Lisa Kopper and her beloved Daisy. Here is a link to one of 4 or 5 books about Daisy. This one is called Daisy is a Mommy.
Daisy Is a Mommy
---
Pep the brave Bull Terrier is a wonderful story of a Bull Terrier in war time, written by Clarence Hawkes. Based during the Great War it is a a story of an American Bull Terrier who goes with his master from the USA to the front line in France. Fantastic story. The first link takes you to a Kindle download. For those not using digital books a further link takes you to the printed version.
Pep the Brave Bull Terrier: A Heart-warming dog story from WW1 (Animals at war)
Pep the Brave Bull Terrier: A Heart-warming Dog Story from WW1
---
Champion, The story of A Bull Terrier, by K.F. Barker printed by Country Life in 1936.
Champion The Story Of A Bull Terrier
---
I have already brought to you The Incredible Journey by Sheila Burnford but here is a cd and book pack for level 3 Active Reading. Fantastic way for young ones to learn to love our breed and advancing their language skills.
The Incredible Journey - Book and CD-ROM Pack
---
How about a true story. A soldier in the Eleventh Pennsylvania Regiment. Name was Sallie, a brindle English Bull Terrier, who joined up in May 1861 and fought on the front lines during the American Civil War. You may have heard of the battle of Gettysburg. She was there on the front line and stayed on Oak Ridge looking after the wounded and dead. There is a monument to her at Gettysburg.Yet again another true story showing the bravery of our beloved breed.
Sallie Civil War Dog: War Dog of the Rebellion
---
I came across this book but as yet have not seen a copy of it. I bring it to your attention as it focuses on a rather famous owner and one Bull Terrier. Yes true Royalty, the British Royal family and the now infamous incident of the Corgi and Dotty the Bull Terrier.
Dottie's Diary: The Curious Incident of a Royal Bull Terrier
---
Marsha Boulton, author, gets herself a puppy Bull Terrier called Wally. She writes the story and shows just how life with a Bull Terrier is great especially as the world crumbles around you. A must read for anyone feeling down on their luck. A cracking good read.
A MUST
Wally's World: Life with Wally the Wonder Dog
---
The English Bull Terrier in adverts or promotional work
Bull Terrier coffee. When you want it strong and bold.
Bull Terrier Brand Art Poster Print by Ken Bailey, 11x14
---
Maybe you fancy tea.
Bull Terrier Tea Framed Art Poster Print by Ken Bailey, 9x11
---
How about meeting Onion the famous mini Bull. Films, Pop videos.
---
Okay in this little section the books lean more towards the breed and facts associated with the English Bull Terrier.
One of the more well known names in the Bull Terrier world is Raymond Oppenheimer such as a Bull Terrier history or McGuffin and Co.
McGuffin & Co.: Bull Terrier History
After Bar Sinister
---
Another well known name is Dr David Harris and here are links to his wonderful books.
Bull Terriers Today (A Ringpress dog book of distinction)
Bull Terrier (Best of Breed)
---
A lovely collectable by Gladys M Adlam Forty years of Bull Terriers.
Forty Years Of Bull Terriers.
---
A must have for Fanciers, The Bull Terrier Yearbook.
---
Another one for the aficionado's amongst you. A collector item, especially in 1st Edition. T.W. Hogarth and The Bull Terrier hardcover.
The Bull-Terrier
---
A further interesting book by the Remer family. This one by John H Remer called The New Bull Terrier dated 1989.
The New Bull Terrier
---
This is considered a collectors item if a 1st edition. The Bull Terrier and all about it. Written in the 1930's by Major V.C Hollander. A new reprint is available but obviously not worth the price of a 1st edition. Both links here for you one to the original and one of the new reprint.
THE BULL TERRIER AND ALL ABOUT IT
Bull Terriers (A Vintage Dog Books Breed Classic - Bull Terrier)
---
Not forgetting you mini Bull Terrier fans how about a book covering all the Champions from 1992 to 1995.
Miniature Bull Terrier Champions, 1992-2005
---
For many hardcore fanciers hearing the name Margret O Sweeten can often raise the spirits. SO here is a collection of several of her books that can be whole heartedly recommended to the hardcore collector. First editions command a good price and grace the privileged spots on the book shelf.
So firstly how about The Jackadandy Heritage in hardcover form 1985.
THE JACKADANDY HERITAGE
---
An interesting book called the Bull Terrier Champions 1952 to 1981. Very interesting and shows nicely the changing of the breed over these times.
Bull Terrier Champions 1952-1981
---
Followed by Bull Terrier Champions 1987 to 2001 by the same author Jan Linzy.
Bull Terrier Champions, 1987-2001
---
Lastly not least Bull Terrier Champions 2002 to 2006.
Bull Terrier Champions, 2002-2006
---
A book written by a man I have much admiration for. He was a kennel man at the Ormandy, Souperlative Kennels in its hay day and wrote this in the 1970's. All about the Bull Terrier by Tom Horner. He went on to become a much respected Judge on the Show Circuit. A signed first edition is worth collecting.
All About the Bull Terrier (Hardcover)
---